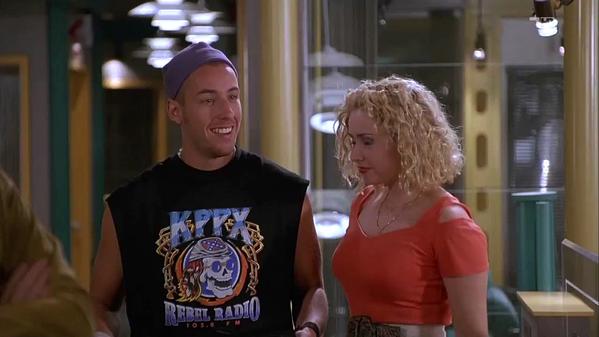 KPPX Rebel Radio Shirt
Anyone who has seen Airheads will remember The Lone Ranger's drummer Pip (Adam Sandler) and the fact that he, along with bandmates, held up KPPX Rebel Radio 103.6 in order to have their demo taped played over the stations airwaves. Be sure to cut the sleeves of the shirt if you get it. A t-shirt of this caliber is meant to be worn sleeveless.
I can't remember if the demo actually played in the film, but I do remember it all worked out in the end; The Lone Rangers got a record deal and only had to serve a short sentence in prison. If you ever want to make it in the music business all you have to do is bust into a radio station, gun blazing, and forcibly demand air time; before you know it you'll have a triple platinum album.
$19.90 @ redbubble →
Filmgarb uses some income earning affiliate links