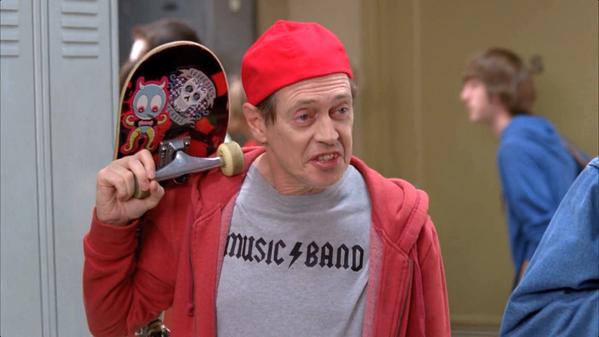 Steve Buscemi's Music Band Shirt
We are such big fans of music bands here. You know, that one guy who makes those mechanical noises, we could listen to that all day. That and the one sports player who plays for the yellow and blue group…awesome stuff.
This t-shirt was worn by Steve Buscemi whilst playing Lenny Wosniak, Jack Donaghy's private detective. It was during his flash back to the days where he was part of a special task force of very young looking cops who infiltrated high schools that we got to see this magnificent, meme-spawning, shirt.
Update 2020: The shirt is now widely available for purchase.
Edit - If you are having trouble buying this t-shirt, it's because it's only sold through websites that allow users to upload designs (like Zazzle, Redbubble, etc…). Apparently those websites quickly remove this particular t-shirts in fear that it might be infringing on NBC Universal's IP, even though they don't own a patent nor copyright on the font nor the phrase (stupid, I know). That means you will have little luck finding one of these shirts to buy, for now.
Here's the workaround:
Check it out

→
Filmgarb uses some income earning affiliate links