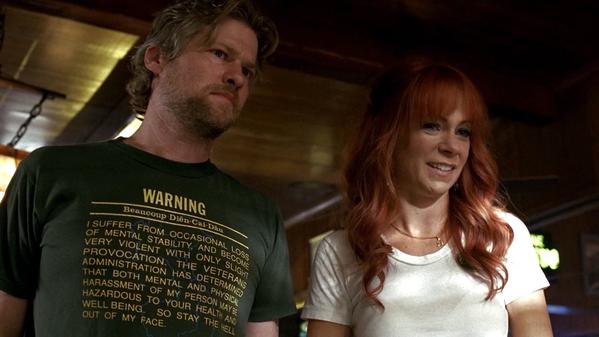 Terry's Shirt
In a few episodes of True Blood Terry Bellefleur wears an interesting shirt. The text starts with "Warning, Beaucoup Dien Cai Dau." I wasn't sure exactly what it meant until I did a little googling and found that it is a French-Vietnamese phrase that means "crazy head".
The full text on Terry's shirt reads:
WARNING
Beaucoup Dien Cai Dau
I SUFFER FROM OCCASIONAL LOSS OF MENTAL STABILITY, AND BECOME VERY VIOLENT WITH ONLY SLIGHT PROVOCATION. THE VETERANS ADMINISTRATION HAS DETERMINED THAT BOTH MENTAL AND PHYSICAL HARASSMENT OF MY PERSON MAY BE HAZARDOUS TO YOUR HEALTH AND WELL BEING. SO STAY THE HELL OUT OF MY FACE.
Check it out

→
Filmgarb uses some income earning affiliate links