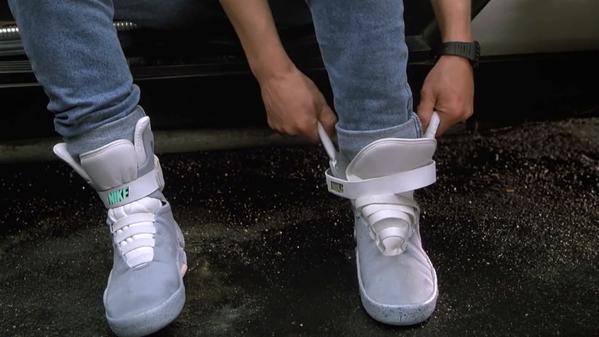 Marty McFly's Future Nikes
Looking to get the shoes Marty McFly wore in Back to the Future Part 2? Well, you're in luck. Nike manufactured the futuristic kicks a few years early. In the movie, Marty travels to 2015, but in 2011 Nike manufactured the Mags in a limited quantity and donated the proceeds to the Michael J. Fox Foundation.
The good news is you can most likely get your hands (or feet) on a pair of the air mags. The bad news is, it will cost you several thousands of dollars for an true original. However, you can also buy knock-offs for cheaper.
October 21, 2015 edit: Well, we did it. We've made it to the, oh so famous, fictional date without completely decimating the planet. The date where the human race would have flying cars, hover boards, pizza hydrators and those awesome self lacing Nike Mags. Unfortunate for us, we didn't get all any of those cool things including the damn (official) Mags, but according to Nike, we can buy them soon - just in time to not really want them any more. Also, they will be "self lacing"
Check it out

→
Filmgarb uses some income earning affiliate links