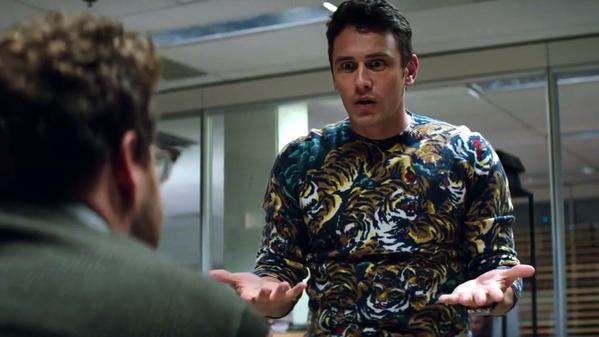 James Franco's Tiger Sweater
I recently got an email asking about the tiger sweater that James Franco wore in The Interview while playing Dave Skylark. After a little bit of research I found out that the shirt is made by the Paris based clothier, Kenzo. If you're unfamiliar with Kenzo, that's probably because most of the stuff they make/sell is incredibly expensive.
The sweater in question was from their 'flying tiger' series that original debuted around 2012/13 and had a $400+ price tag. It was sold as a women's top, but that didn't stop Dave Skylark from wearing it; how brave.
The sweater is last year's fashion and no longer made, you might be able to find one at a used clothes shop or you could buy a cheap knock off, like the one I link below. It probably wasn't handcrafted by the world's most expensive seamstress like Kenzo must have in employ but it'll look similar. Purchase at your own risk.
unavailable